Carnival: Karneval, Fasching, Fastnacht… As so often in Germany there are different names for one and the same thing depending on the region. In Germany it is often described as this: controlled excess!

terms
Mainly these 3 names are used:
(Der) Karneval -> that comes from the Latin, either "carne levare" (take away meat) or "carne vale" (meat, farewell!)
(Die) Fastnacht -> "die Fastenzeit naht" (Lent is approaching) oder "die (letzte) Nacht vor dem Fasten" (the (last) night before Lent)
(Der) Fasching -> from the medieval "Fastenschank" (serving of drinks), the last serving of alcoholic drinks before Lent

For me personally it is Fasching! But I will use "Karneval" here because it is used nationally in Germany and is also close to the English "carnival".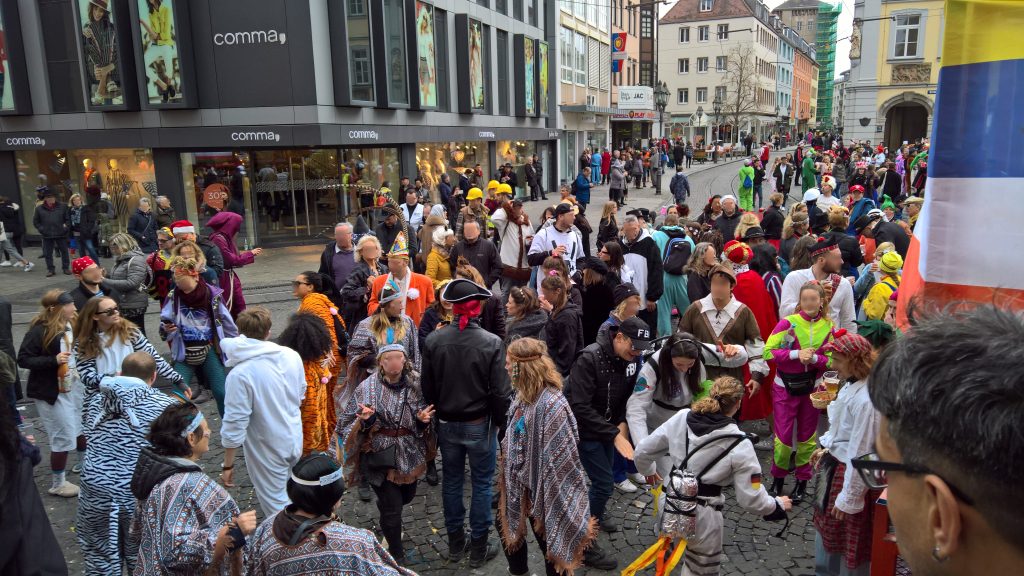 elements:

Regionality: How significant the carnival is depends very much on the region. Most are predominantly Catholic regions where a strong carnival culture has developed and maintained. It is particularly popular in the Rhineland (Cologne, Dusseldorf, Aachen, Bonn, Mainz and others). But it is celebrated everywhere, although there is not the same intensity everywhere.

"meeting carnival", "street carnival" and "party carnival":
Classically you can distinguish between meeting carnival and street carnival. The meetings ("Karnevals-Sitzung") are special indoor events organized by carnival societies. The street carnival takes place outside and in bars. However, there are also organized events such as the carnival parades or the "town hall storming" (Rathaussturm), in which the fools symbolically take power in the city. Then there are also carnival parties in various forms, be it in bars, clubs, in schools or private.
Carnival Societies (Karnevalsgesellschaften): These are associations whose members are passionate about celebrating carnivals and, above all, organizing events.
Carnival meeting (Karnevals-Sitzungen):: They are organized by carnival societies. You have a large, decorated hall full of mostly costumed guests. There are several artists, comedians and dance groups, that perform on a stage. This "Sitzung" is chaired by a session president and the Elferrat. Everything is hilarious, yet there is an ironic serious facade in the process reminiscent of a member meeting of a serious organization. As so often, it is a parody of otherwise serious gatherings. At carnival time, many meetings of the big and well-known clubs are televised. But if you really want to experience it, you have to be there in person. The humor on such sessions is usually not very intellectual, but it's just about the fun.

Street carnival (Straßenkarneval ): celebrations on the street and in adjacent bars. It is laughed, drunk and celebrated especially exuberantly. Here are things that are otherwise not possible: For example, alcohol in harsh amounts, public, by day and night. Sentences that would be sexist on normal days are not worth mentioning in the street carnival. Of course it is not always that extreme. But you should be prepared to have fun when you are in the middle of the crowd.
Carnival parades (Karnevals-Umzüge): They are the highlight of the street carnival. Costumed people are walking through the city on foot or on decorated vehicles. It is also a parade of carnival societies. On the vehicles is celebrated or even current topics recorded critically and humorously. Mostly the "powerful" are mocked. The biggest is the Rose Monday parade in Cologne. But there are also small, cozy parades in many small towns.
Carnival cries (Karnevals-Rufe): At the height of the Carnival season, there is a special greeting. With him you can also show that you join in the whole bustle. They are also regionally different. The best known are "Helau" and "Alaaf". One says for example in Cologne "Alaaf" and in Duesseldorf "Helau". Because a kind of "enmity" exists between these two cities, one should use the correct greeting 😉S
Schwäbisch-Alemannische Fasnet: Independent, original carnival in southwestern Germany. The elements of the "modern", Rhineland carnival are not here consciously.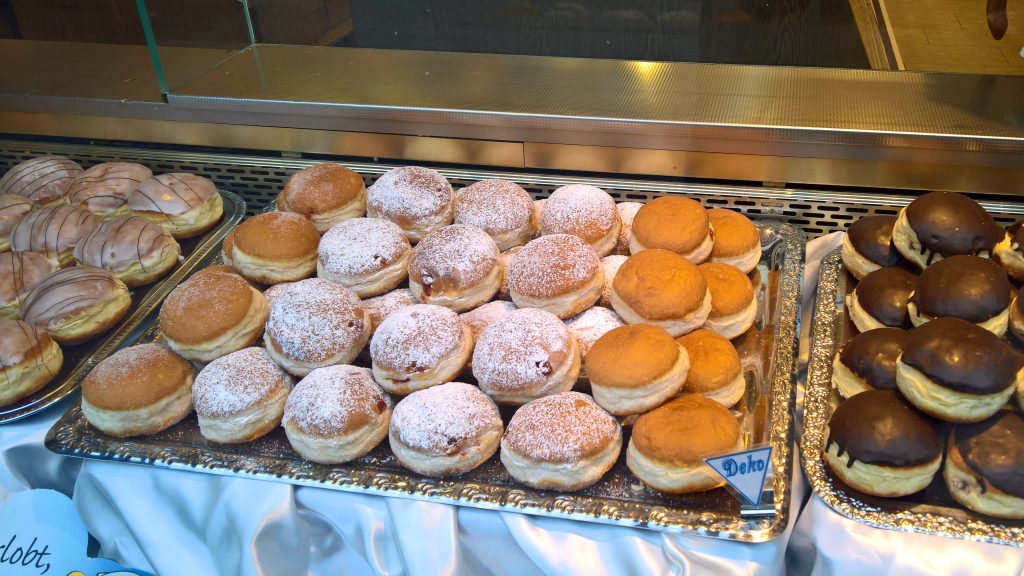 typical food:
Krapfen
(similar to donuts)
As I mentioned before, the street carnival is sometimes rough. Here is a quote from an opinion article by Dagmar Rosenfeld, editor-in-chief of WELT:
Carnival will answer the question of how far we go if we let ourselves go. Precisely because on the great days some principles are overruled, they reveal how stable and equal our society is. And that it is so stable, that it preserves decency even in indecency.

Dagmar Rosenfeld
https://www.welt.de/debatte/kommentare/article189539633/Genderdebatte-An-Karneval-hat-MeToo-Ferien.html
historical meaning
Carnival is the time before the Christian Lent until Easter. The basic forms of the festival in Germany go back to the Middle Ages. Previously, when Lent was still strictly for everyone, all supplies of animal food and alcoholic beverages had to be "used up" until Lent. So it was celebrated a really dissolute party, before fasting was 40 days. In addition, there were still very ancient times customs that should scare away the winter. These are temporally collapsed. As a result, a hilarious party with masks, fairings, etc. has developed. It was also a time when in a few days the "world conditions" were reversed. The servants became masters and vice versa. The "fools" ("Narren") took power. That is also the reason why there are symbolic "carnival-storms" of the town halls in Germany. Many elements are also from the 19th century. The soldiers were parodied with their uniforms, with their step and discipline. It started with hidden mockery of the Napoleonic occupation troops in the Rhineland. Then to the Prussians, who after the war of liberation against the French in many countries now had the shots. That's why the traditional stage dances, uniforms, etc. look like military: it's a parody of the military!

Schedule
11.11. (November 11th): Beginning of the carnival season. Historically, because there was a Lent before Christmas in early Christian times. Here the town halls are stormed.
February / March: Events and splendid meetings of the clubs take place here.
Closer carnival days: The right Carnival days take place just before Lent, so at a fixed distance from Easter. Because Easter depends on the lunar calendar, which does not quite agree with the solar calendar (365 days), Easter and therefore Carnival fall each year to different dates in the months of February and March.
Weiberfastnacht/Weiberfasching: Thursday before Ash Wednesday (Aschermittwoch). This is where the street carnival begins.
"Carnival Friday", "Carnival Saturday" and "Carnival Sunday" -> the weekend before, many parties are celebrated
Rose Monday (Rosenmontag) -> The "highlight" of the carnival. Here the famous Rosenmontagszug takes place in Cologne
Shrove Tuesday (Faschingsdienstag)
Ash Wednesday (Aschermittwoch) -> Here only the ashes remain of the whole festival and it is over). It is interesting that traditionally the parties organize a "political Ash Wednesday". It's about talking to your own people and criticizing the political opponent particularly hard.
Ash Wednesday is the beginning of Christian Lent, which runs until Holy Thursday / Easter. Lent takes 40 days but Sundays are excluded. Lent is traditionally about giving up meat. But in the present day many believing Christians are above all concerned with the symbol. For example, alcohol, sweets etc. are not used. According to a representative survey in 2017, 11% of the population in Germany fast in Christian Lent. This origin is not that significant anymore.
No carnival day is a public holiday. Rose Monday and Shrove Tuesday are in some areas but days on which the companies release their employees.
small glossary:
"fünfte Jahreszeit" ("fifth season") -> this is another name of the carnival (the time from November 11th to Ash Wednesday)
"Karnevalshochburg" ("Carnival stronghold") -> where the carnival is particularly strongly rooted
"Jeck" / "Narr" / "Narren" ("Fool" / "Fools") -> Expressions for people celebrating Carnival. You can also use "jeck" as adjective: you can describe it as cheerful, witty, in party mood.
conclusion:
In Germany, it's usually pretty neat. The carnival, however, is a "state of emergency" and "organized loss of control". There are people who hate it and others who love it.
If you want to join in a tip: you should know if you are in the area where you say "Karneval" or "Fasching", or something else. And what the regional exclamation is: For example, "Helau" or "Alaaf". You do not have to dress up consuming, something colorful is enough. Otherwise, only: good mood!